Scar and keloid treatment
A scar is part of the normal healing process. The type of scar that forms can depend on a variety of factors including the nature of the injury, which part of the body, the size and the depth of the wound. Scars consist of a non-living protein called collagen which is the most common tissue in the body.
A keloid scar is a red and raised area which can be uncomfortable and restricting. This type of scarring is a result of the build up of collagen in the area, making the scar larger than the actual size of the wound.
Hypertrophic scarring is also red and raised, but without the excess collagen build-up leaving the scar confined to the original wound area.
NBGS' medical grade silicone is a clinically proven technology used to diminish scars both new and old, this includes hypertrophic scars and keloids. It helps restore the skin to a more natural texture and color. Used after surgery or injury, our advanced technology even helps prevent scar tissue from forming. It is safe for anyone age three and up and all skin tones, and alleviates the itching and discomfort associated with scars and keloids.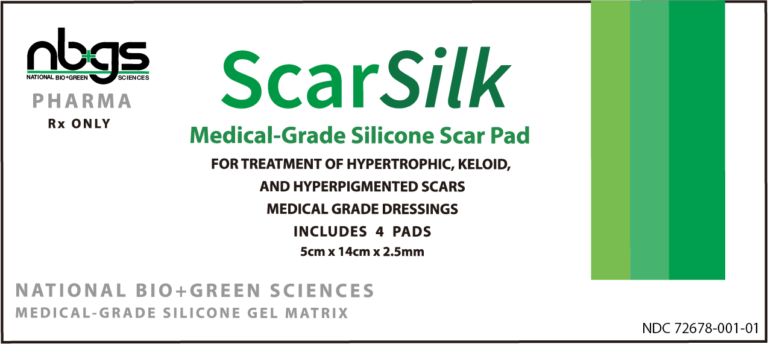 TIPS
use this product once scar or wound has been healing for at least 7 days. You may start using immediately on older scars.

Silicone sheets or pads should be worn for 4-8 hours per day for the first few days, and gradually increased up to 24 hours a day. Use a minimum of 12 hours a day for maximum results.

Gently wash silicone sheets in warm water every day prior to usage. This product is formulated for application to:
Keloid Scars

Hypertrophic Scars

Cosmetic Surgical Scars

Surgery Scars

Accidental Scars

Breast Implant & Reduction Scars

Burn Scars

Raised Acne Scars

C-Section & Pregnancy Scars
DIRECTIONS
Clean and dry scar area.

If needed, cut sheet according to the size and shape of the scar.

Peel off liner from adhesive side of sheet.

Apply adhesive side of sheet directly on scar.
INGREDIENTS
100% medial grade silicone
COURSE OF THERAPY
8 WEEKS ON NEW SCARS

3-6 MONTHS ON EXISTING SCARS

Scars may feel softer in just a few days, with visible results in just weeks. Optimal results are achieved in about 12 weeks. Individual results will vary.